that's right, i finally got up just about an hour ago. well, i did try to get up at 8, then 11, then noon, but the headache and nausea kept me down. that's right, i'm hungover from two beers and not even a buzzed state last night. the last time this happened, i sipped some hot sake with a HUGE meal in japan (yes, it really as huge, even by american standards). the next morning, i almost threw up during a formal breakfast. the waitresses gave me some sort of painkiller/nausea medicine, and i slept bundled up in the oh-so-fluffy real futon (not cheap college student furniture) until about 3 pm. i'm a lightweight, but i can usually hold at least a couple of drinks, especially if i'm eating a hearty meal. and eat heartily i did.
onto the good part of yesterday. i worked a half day from home, then headed out to south coast plaza for my registry completion appointment at the macy's home store. let's just say i wish i had a personal shopper and tons of store credit to spend all the time. my registry expert, or whatever her title is, was awesome. i'll write more about it on my
wedding blog
soon. i then dropped by paper source on my way over the crate & barrel. the bear had to stick around his office late, but was almost done, so i didn't get to look around much. i snapped a photo of these cute jars.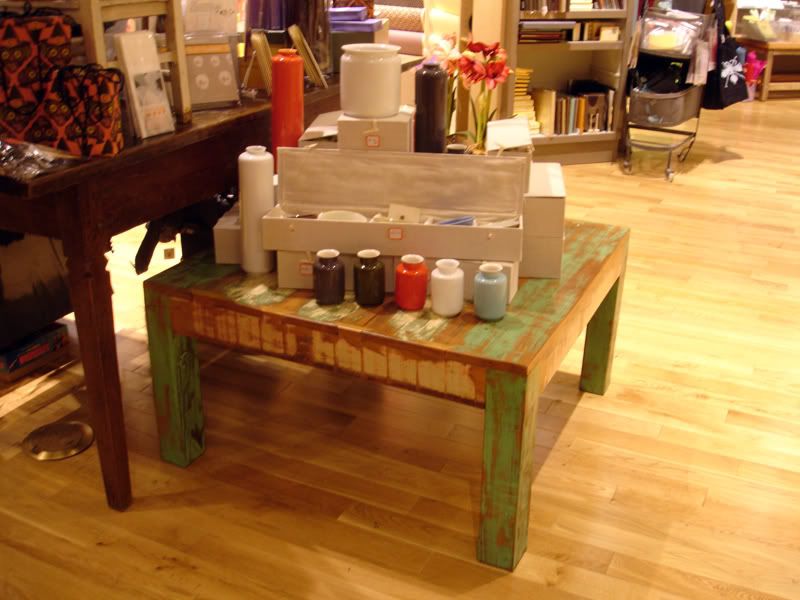 the bear met me at crate & barrel's back door pickup (a lifesaver if you're ever buying too much to carry or bulky items. i learned this trick while shopping for clients). we loaded our new goodies, made a quick stop at fry's (i hate this store but will go in for the bear...that's love!) where there were cops, a guy sitting down, and around two handfuls of asian-men-in-suit onlookers surrounding the entrance. not sure why the non-asian-men-in-suit patrons weren't as curious.
we then went to go feed my soondooboo jjigae (spicy tofu casserole) craving at
hashigo korean kitchen
. now i would never step food into a trendy, not-perfectly-authentic korean place of my own accord. bear works nearby, so he and his friends frequent this place for lunch as their lunch specials are definitely a deal. on the menu, authentic korean dishes are mixed in with authentic dishes with more "california" ingredients thrown in, and dishes i totally do not recognize as korean or otherwise. i had the mandoo soondooboo (dumpling tofu casserole), and the bear had the dolsot bibimbap (rice/veggies/meat/egg in a hot stone pot). mine fell in the first category, his fell in the second category, and everything the table next to us ordered fell in the lattermost category. in short, it's like eating thai food on the westside rather than in thai town. the interior is cleaner, has better and more contemporary decor, trendier dim lighting, and more pleasant servers since most of the patrons are not natives to the cuisine.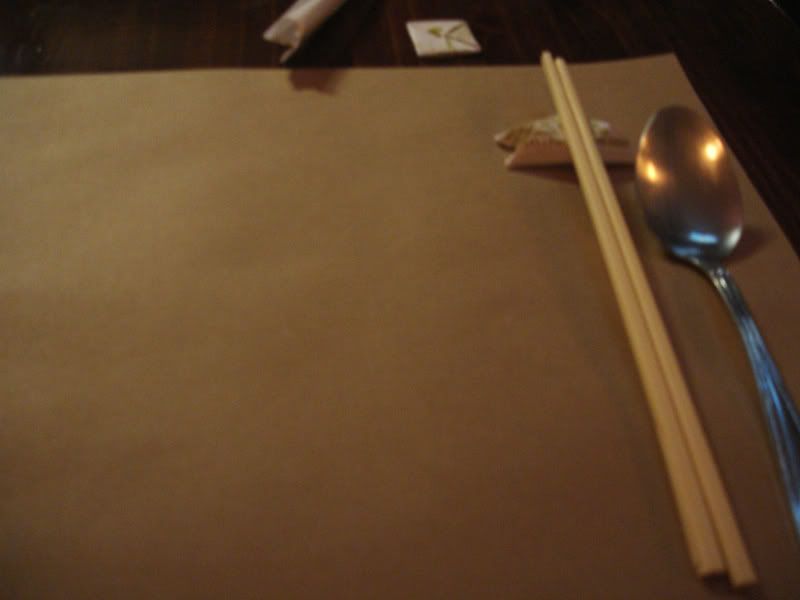 i loved the simple kraft paper placemats.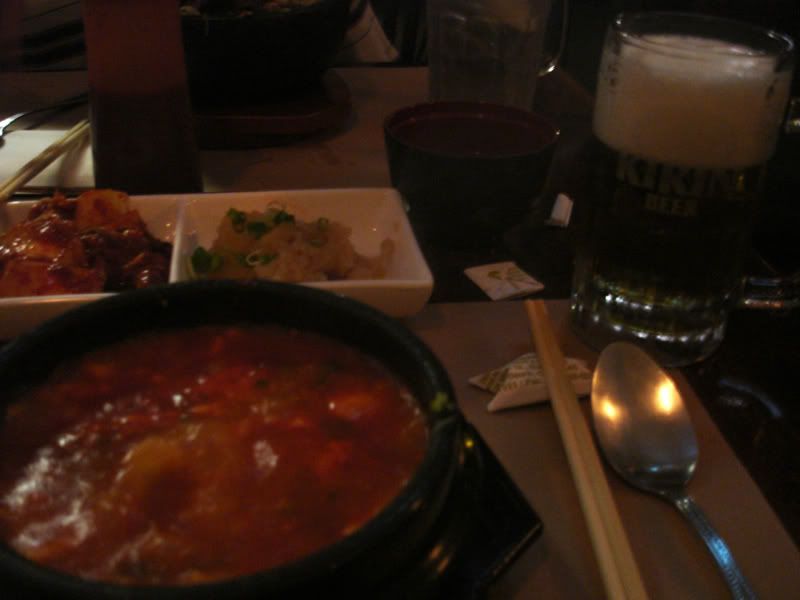 see all that head? i bet that's what gave me the hangover. hmph. anyway, my yummy tofu stew. so much more appetizing than it sounds in english. you can also see the lackluster banchan (side dishes) and bear's mookgook (daikon soup) in the background.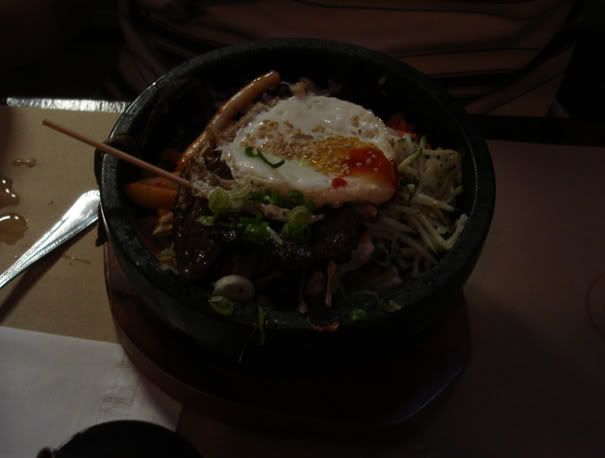 bear's yummy dolsot bibimbap. he got it with galbi in it, but it made it difficult to mix. everything wasn't julienned finely enough for optimal mixing, but the ingredients were very fresh, the hot pepper sauce just sweet and sesame oil-y enough, and the burning temperature perfect.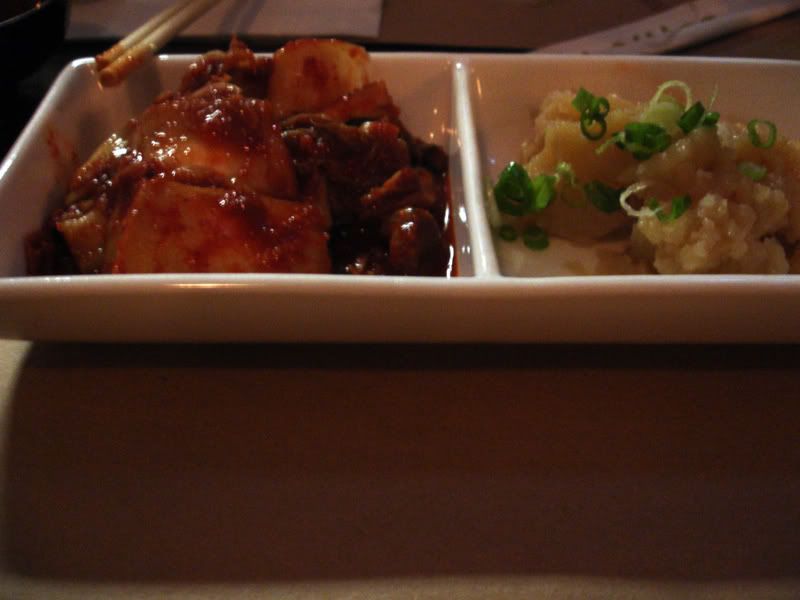 the disappointing banchan, if you can call it that. the kimchee was aiite, and the potato salad was really good, even though it was more japanese than korean. it had the bite and savoriness of miso, the sweetness of mirin, and some fresh crunch provided by the onion and green onion mixed in. i was just sad that we didn't get the usual, impressive spread. here, they give you a choice of kimchee or something else, and you only get it with each entree you order. how am i supposed to get my veggies?
lastly, we ordered a pitcher of kirin, which caused the horrible hangover. they have those cool stay cool pitchers with the plastic tube with re-freezable liquid sealed inside and fused with the pitcher. ice cold beer + piping hot soondooboo = potato heaven. they have a beer + wine license, so they have soju cocktails, decent selection of korean and japanese beers, and some sake drinks as well. the bar is cute, and they encouraged us to stay at our table after our dinner to just lounge and drink more. they also have an anju menu (hearty, snacky foods to go with drinks), so it seems like it'd be a great place for light munching and drinking. it was a great friday, despite the consequences the next day.